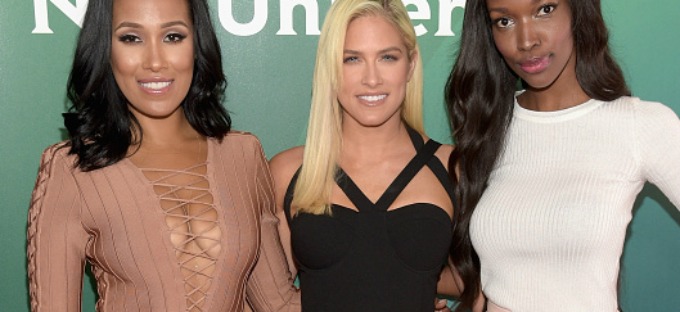 Barbie, Sasha and the new cast member Tia were at the NBCUniversal Summer Press Day today ! More photos in our gallery!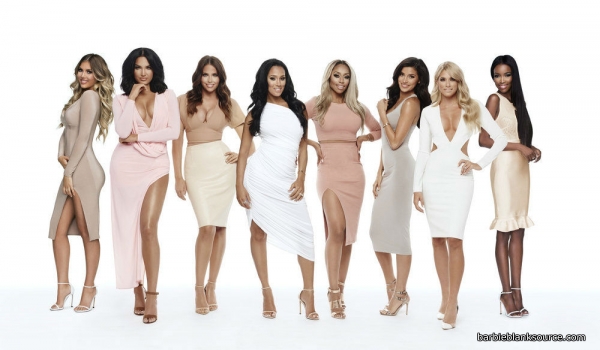 There's a new lineup coming to E!'s reality series "WAGS" — and we've got your first look!

"Wives and Girlfriends of Sports Stars" returns June 26, with a brand new crew. Sasha Gates, Barbie Blank, Autumn Ajirotutu, Nicole Williams, Natalie Halcro and Olivia Pierson all return for the 12-episode run, along with newcomers Sophia Pierson and Tia Shipman. Season One star Ashley North's name is MIA from the cast list.

Pierson is a beauty and style expert with 223k followers on Instagram. She's sister to star Olivia and Natalie's cousin. According to E!, she's been linked to a player from the Tampa Bay Lightning.

As for Shipman, she's an elite Ford model who's also appeared on TV shows like "The Bold and the Beautiful" and, most recently,"Grandfathered." Tia's also been linked to a few athletes in the past, including players for the Denver Nuggets and Indianapolis Colts.

We're told Sophia will definitely shake things up, as she confronts Autumn about rumors her husband, Seyi Ajirotutu, allegedly cheated on her. Tia has some issues of her own in that department, as she "finds out that her boyfriend may not be as trustworthy as she thought."

The new season will also show Barbie plan her wedding to Sheldon Souray, something which "drives a wedge" between her and the non-married women in the cast. Elsewhere, Natalie and BF Shaun Phillips have "major ups and downs" in their relationship.

The new season kicks off Sunday, June 26th at 10:00pm on E!
Barbie was apart of the 2016 City Gala Poker Fundraiser, you can check out more photos of the beautiful blond in our gallery!

Published by: Nadia | Comments Off

on Citi And OK! TV Host GRAMMY Viewing Party – Arrivals

Read MORE Filed Under: Appearances
Barbie was apart of the Citi And OK! TV Host Grammy Viewing Party! You can check out this gorgeous blond in more of the photos in the gallery!
Barbie was in this weeks 5 things on WWE.com, Barbie was only 19 years old when she came to WWE.
Related Links
Here are the covers of Barbie's new 2016 Calendar! It's not for certain yet if she's selling it or not, but we will keep you posted!!!
Barbie was on Fox5 Vegas this morning as she was talking behind the scenes of WAGS and her wedding! Her wedding is now set to be February 27th 2016! We are excited for Barbie and can not wait!!
Related Links
Barbie and Sheldon attended the Casamigos Halloween Party in Hollywood, California.
Published by: Nadia | Comments Off

on WAGS Recap Episode #8 "You're In A Fake Relationship"

Read MORE Filed Under: Recap, WAGS
On this weeks WAGS Barbie and the girls went to a horse race as Barbie was the judge and was going to be giving the winner there trophy, Ashley told Barbie that she wanted to hear what happened at the batch party, Barbie told her once all the girls got there she would tell them. Autumn asked them that they just came back from Miami as they all said they did, Ashley then asked what happened, Barbie spoke softly saying Nicole and Olivia made out, they didn't hear her so she spoke louder as they all started laughing and asked Olivia if she's ever made out with a girl before, she said no and they asked Nicole if Larry was okay with it, and she said he was and that it sounds like her while he laughed. Barbie asked Natalie if her and Sean were moving in together, what was going on, Natalie told everyone that there still house hunting, and that she doesn't know yet. Barbie asked Natalie what team was Sean going to next year, and she told her she doesn't even pay attention, Autumn was surprised that she doesn't pay attention to her own boyfriends work.

Barbie, Olivia, Natalie and Nicole all walked down to the winners circle so Barbie could give the winning trophy to the winner of the race, as the girls and her laughed and voted on there numbers to win, Barbie picked 8, as Olivia picked 2, and number 2 won, Barbie waited for the winner to come and get his trophy as she hugged him and congratulated him, as the other girls sat upstairs watching from a TV.

All the girls went out for dinner, Barbie, Natalie, Nicole and Olivia were already at the table, when Olivia said she had a bad PMS right now, and if anyone says anything over the max, it's over as Barbie laughed and the others girls showed up. Barbie asked Natalie if her and Sean are going to get married soon, and she replied back with a "I don't know" as Autumn gave her a confused look, asking her how does she not know, and she replied back saying she's never been the kind of person that wanted to get married or move in fast, Autumn then pipped up again calling her out and saying she was in a fake relationship, Natalie then asked her why did she think that, Autumn told her about the sources that have told her he'd be doing his own thing, and she'll be doing her own thing and there never together, Barbie then spoke up saying that everything they've been through at the end of the day, as Autumn told her that she's so sweet and loves how there bff's now. Sasha was then the focus of the whole dinner as she felt like she was having labor pains, Natalie said she would text Autumn or Ashley and ask how she's doing, and hopefully they would answer her due to the heat that just happened at the dinner table.

Barbie, Olivia and Natalie all went shoe shopping as they all talked about how scary it was with Sasha the night before, and that they hoped she was okay and that Sasha was 2 months from her due date but she looked in pain, Olivia then brought up that Autumn was on a tide rade and Natalie agreed and said she doesn't see how she should open up to her just because she doesn't want to marry her boyfriend after amount of years doesn't mean she's in a fake relationship as Barbie agreed to what she said.

At the end of this episode it showed the girls lifes that wasn't shown in this season, as Barbie and Sheldon were on a golf cart together, watching fire works and just enjoying there time together.
Episode Stills / Screen Captures
On this weeks WAGS Barbie is having her batch party in Miami with a couple of her friends and girls.

Barbie had a lunch date with Autumn,Sasha and Nicole. She showed up and asked how everything was going, Autumn and Sasha spoke up and said that there new kids clothing line had just come in and they were excited about it. Barbie later then told them about her two friends from Jacksonville holding a batch party for her and that she was wondering if they wanted to come, Sasha said she couldn't because she was close to her due date, and Barbie understood, Autumn then told her that she couldn't because her and Sasha had a photoshoot coming up for there line and there were a bunch of little kids coming to the shoot, Nicole told Barbie that she would love to come if she's not working and if Larry is okay with it.

Barbie and the girls showed up in Miami as they met up with Barbie's friends Hillary and Whitney, they were Jacksonville Jags cheerleaders, as they looked around the house that they got in Miami for the batch and took early shots getting the night started. They went to the Vazcaya Mansion and had a private pool side dinner as they talked about stuff as Nicole later than asked what are they going to do later on that night, Barbie told them that they were going to a Male strip club. Nicole didn't like the sound of that and told them she had to ask Larry first, Barbie got a little annoyed and didn't know she had to ask before she did.

Barbie, Hillary, Whitney, Natalie and Olivia all went in the strip club as Nicole sat in the car, the girls were having fun celebrating as Nicole called Larry and told him she was going home to bed. Nicole then messaged Barbie saying that she was going back to the room and going to bed as the other girls partyed away, and enjoyed there night. Barbie got a lap dance from a guy as Olivia told Natalie she doesn't know why Larry would say no, there's nothing wrong with what was going on.

Barbie and the girls went to a night club in Miami called The Set, as the girls were having an amazing time, Nicole and Olivia got a little out of hand and made out with each other, Barbie couldn't believe was she was seeing or what was happening as she was talking to her sister and Hillary telling them that if Sheldon saw her making out with another girl he would take away her drink and would probably kill her.

Barbie was sitting at the pool with Nicole and Natalie, as Natalie brought up the fact that the night in the club was crazy, and that Nicole was practically making out with Olivia, Nicole then asked the girls if they thought that Larry would be pissed at her for making out with Olivia, she asked Barbie if Sheldon would be mad, and she said he would, but I would never make out with another girl in a night club.