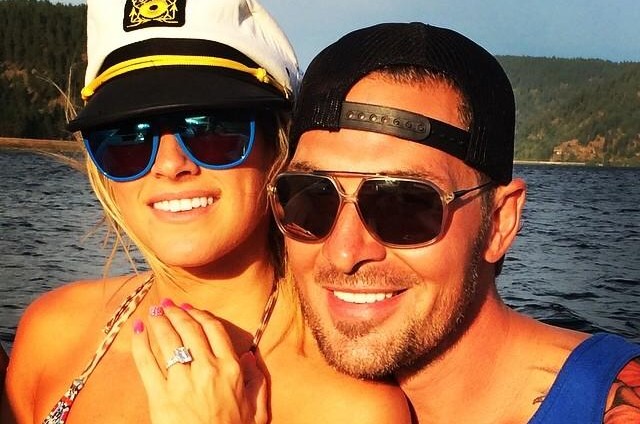 We learned the news a little bit ago that our girl, is engaged. Looks like Sheldon finally popped the question. The picture above shows how happy they are! We want to congratulate Barbie and Sheldon and wish them the very best in there upcoming wedding! Also, Barbie's former co-workers from the WWE including Maryse and The Miz have replied to her via twitter to congratulate the two. Be sure to head over to both twitter profiles and congratulate them, if you haven't already.
Barbie Blank Posted a new photo on Twitter of her and Motley. She also tweeted this:
Motley and Mommy morning play time! While daddy @ssouray is Christmas Shopping! #lockoutproblems #reversedroles
Related Links:
Barbie has posted another photo via her official twitter page of her new hair. This time she is a brunette all the way. She posted yesterday that her hair stylist @ ErickOHair was going to caramel her hair up a bit and as you can see, she has went even darker and is now a brunette. So as the title says: Goodbye Blonde Locks…. And hello Brunette! :) We think she looks stunning with the new hair, be sure to check the photo out available in our gallery.
Related Links:
Home > Miscellanious Photos > Website Images > Twitter > Barbie's Official Account
Nicole & Brianna, (Formerly known as WWE Twin Divas, The Bella Twins!) has posted more photos with Barbie via their twitter  from yesterday's comic con and last night in New York.. The ladies look stunning, so be sure to check out the photos available in our gallery, by clicking the link below.
Related Links:
Miscellanious Photos >> Website Images >> Twitter >> The Bella Twins Twitter
Related Links: @ReallKellyKelly Twitter Photos- View ! @CoreyRena Twitter Photos- View
Kelly Kelly has posted a couple new photos on her official twitter, one pictured with Zack Ryder, and a few others. Her friend Corey has also posted a new photo, which looks like when they were at Drynk Soho. I have added all photos in the gallery, be sure to check them out.
Related Links Twitter Photo: View
Kelly Kelly posted on her twitter yesterday before RAW in Boston on doing her very first Make A Wish. She was very happy about it, and also posted a photo along with a tweet. Make sure you check it out in the gallery. I am also sure more photos come in the future and more make a wishes being granted by KellyKelly.
Just did my first ever @MakeAWish, it was an amazing honor, and Jerry is such an incredible young man
KellyKelly responded later with this:
Kelly Kelly @RealKellyKelly
We see you've done whoever and whatever it takes @EveMarieTorres, 1st of all maxim never wanted you 2nd nickelodeon has no idea who you are And 3rd your not getting any younger,looks are fading fast so use as many people as u can now because your starting to look like Joan river